Unser Wein des Monats ist ein Meisterwerk des Prädikatsweinspezialisten
Markus Molitor
aus einer seiner Saar-Steillagen:
Molitor Riesling Saarburger Rausch Auslese** Goldkapsel 2015

55,- Euro inkl. MWSt pro Flasche
24 Flaschen verfügbar
First come, first serve.Es gelten unsere AGB. Bestellungen bitte an info@trinkreif.at
Markus Molitor
Wein heißt bei Markus Molitor kompromisslose Qualitätsarbeit und Selektion im Weinberg, Steillagen und natürlich nur und ausschließlich Handarbeit. Er steuert die Ernte im Weinberg höchstpersönlich und ist selbst sein eigener Kellermeister mit äußerster Präzision im Keller. Ziel ist es, ausschließlich grandiose Weine zu machen, die natürlich lagentypisch, unverwechselbar und extrem lagerfähig sind. Seine Weine brauchen daher das eine oder andere Jahr, um sich zu öffnen. Es ist für Markus Molitor eine Herzenssache, der Vielfalt des Terroirs und den verschiedenen Mikroklimata der Weinberge Ausdruck zu verleihen.
Saarburger Rausch

Der Saarburger Rausch ist eine Weinlage an einem Hang in südlicher Ausrichtung der Stadt Saarburg im Anbaugebiet Mosel, Bereich Saar. Die 12 Hektar große Steillage weist eine Hangneigung von 30 bis 60 Prozent auf. Der Boden besteht aus verwittertem Schiefer. Die Lage ist größtenteils mit Riesling bepflanzt. Der Saarburger Rausch ist eine Große Lage des VDP und wird von den Weingütern Markus Molitor, Forstmeister Ziliken, Appel und Dr. Wagner bewirtschaftet.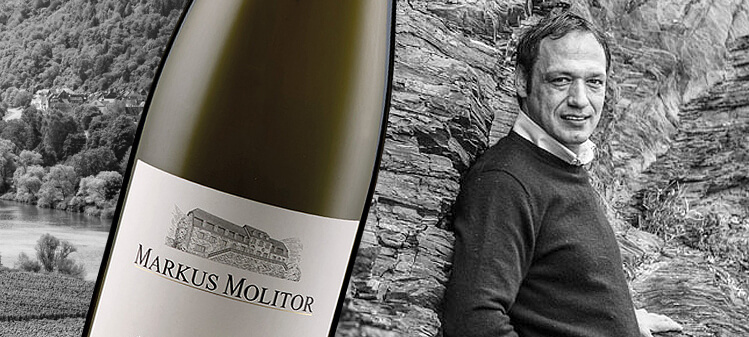 97+ Parker Punkte
Stephan Reinhardt bewertet den Wein mit 97+ Parker Punkten und schreibt 2017 im Wine Spectator: "The 2015 Riesling Saarburger Rausch Auslese ** Goldkapsel displays clear, intense, concentrated and perfectly ripe (stone-)fruit that does not show any hints of botrytis (but a single new barrel) although the grapes were partly botrytised yet perfectly sorted. Rich, round and lush like a Spätlese but finessed and elegant like a top class Auslese, this is an intense and creamy textured Rausch Auslese with an endless flow of very fine Riesling juice intermixed with lemon juice. The acidity is super fine but fresh and vital, and there are even very fine tannins that probably come from the Burgundian pièce that was blended with the 1000-liter stainless steel vat. This is a crystalline Auslese with clear and perfectly ripe fruit and a long, complex finish."
In seinen Kommentaren erklärt Reinhardt den Aufwand und die Komplexität der Traubenauslese für Prädikatsweine: "Readers should be aware that labor costs alone for the noble sweet wines are higher than many family domaines have to pay for the whole harvest. In four weeks, up to 40 workers select daily, evening by evening, up to three hours, selecting raisin by raisin. There is no greater luxury in wine than in a Molitor three star Auslese, Beerenauslese or Trockenbeerenauslese whose perfection is almost too good to be exciting in young years. However, these wines will shine the older they become and should be legends decades from now. Riesling lovers should take every chance to buy some of Molitor *** Auslese selections, which are available in reasonable price categories. These are terrific wines at 12.5% alcohol or less. Only a very few of them were made from botrytized grapes, and in fact they have been rarely that clear, fresh and elegant as well as dense, rich and persistent. They will age for decades, and only in 10 or more years we will really appreciate their true class. But, even Molitor's Kabinett Rieslings—with quantities of up to 20,000 bottles per label—are amazing in 2015. Analytically, these are Auslesen as well, but despite their intensity and structure, they taste lean, light and highly delicate like classic Kabinetts, ready to be enjoyed young although they will gain complexity over the years, too."